Folders are a great way to make a great first impression on customers. More than just a holding-place for your papers, our presentation folders help you send out the right message and create a professional-looking image. Whether making a presentation, hosting a conference or pitching your products and services, a presentation folder provides the ideal and effective way to distribute your marketing material in a professional way. 

Impress your clients with your own high quality printed presentation folders. Use our custom branded presentation folders to package your printed marketing materials like brochures, flyers, booklets, and business cards. 



Printed double-sided on quality paper, you can opt for Matt or Gloss lamination for a smooth, professional finish. According to your needs, designs can include various details such as a pocket with gusset, business card holder etc. 

Printing Options 
• Full colour single sided / Full colour double sided 
• Size – A4 210x297mm, A5 148x210mm, DL 99x210mm 
• Laminations – Matt or Gloss
 You can choose from the templates available for download or print your own design.
90 x 55 Business card
Fits 8 pages / 16pp Book
Single sided flap, no gusset
Finished sizeA4 (310 x 226mm)
Flat size 396 x 523mm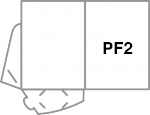 90 x 55 Business card
Fits 12 pages / 24pp book
Single sided flap, 5mm spine
Finished size A4 (310 x 226 mm)
Flat size 396 x 528m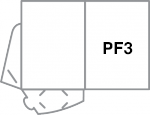 90 x 55 Business card
Fits 24 pages / 48pp book
Single sided flap, 4mm gusset, 5mm spine
Finished size A4 (310 x 226 mm)
Flat size 400 x 532 mm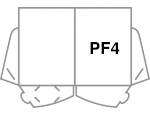 90 x 55 Business card
Fits 8 pages / 16pp book
Double sided flap, no gusset
Finished size A4 (310 x 226 mm)
Flat size 396 x 595 mm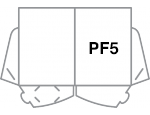 90 x 55 Business card
Fits 12 pages / 24pp book each side
Double sided flap, 5mm spine
Finished size A4 (310 x 226 mm)
Flat size 396 x 600 mm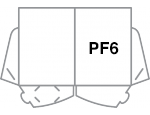 90 x 55 Business card
Fits 24 pages / 48pp book
Double sided flap, 10mm spine, 4mm gusset
Finished size A4 (310 x 226 mm)
Flat size 400 x 613 mm